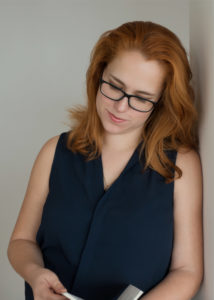 Hi, I'm Sandra
I'm the author of the Persephone's Curse trilogy (and hopefully many future novels). I love to read and I love to spend hours upon hours asking myself what if questions until they weave themselves into the stories I would like to read myself.
Persephone's Curse
2018 | DYSTOPIAN ROMANCE
Escaping from the government run labs had only been the beginning of Elin's fight for survival. Quickly running out of options she's wary when good-looking Jayden offers her shelter — and wants nothing in return. In their dystopian world trust and friendship gets you killed.
Jayden doesn't need another life to be responsible for, another mouth to feed. He already has enough people counting on him, but something about that stubborn redhead intrigues him enough to offer her help.
They need to make a choice: Will they manage to work towards a better future together or will they allow their pasts to drive them apart?
New
Persephone's Grief
2020 | DYSTOPIAN ROMANCE
Jayden and Elin were sure they could face anything in the world — as long as they faced it together. But when the unthinkable happens all that changes. With Elin's life on the line, they are forced to make hard decisions.
Embarking on a desperate race against time, Jayden must cross lines he has never crossed before. Fearing the loss of his wife, his determination to keep Elin alive becomes Jayden's driving force — no matter the cost.
Overcome with despair, Elin focuses on what she'll leave behind. But with Jayden descending deeper into the abyss of his grief it is left to her to ensure he will find a way to cope without her. After all, the future will rely on him.
The alarm was shrill and annoying enough that it chased everybody from the building who had no serious reason to stay there. The fear of fire would do the rest.

From: Persephone's Grief

I wasn't going to scream. I wasn't going to scream. I wasn't going to scream. Blinding pain radiated from my lower back. I bit down on my lip. I wasn't going to scream like I had the first two times.

From: Persephone's Curse

On our way Rowan and I had passed through various other sectors, some alike the tenth and others, like the second sector, that had posh doormen waiting in front of gilded doors and immaculately trimmed hedges. We traveled along the riverbank which was spaciously lined with huge warehouses and factory buildings.

From: Persephone's Grief

I grasped at the details drilled into my mind. That the experience was supposed to be for the greater good; that I should have been proud I might have helped to find a cure for Persephone's virus; that the experiments that scarred my stomach could have made it possible for others to survive childbirth someday.

From: Persephone's Curse