Get an exclusive

Free Short Story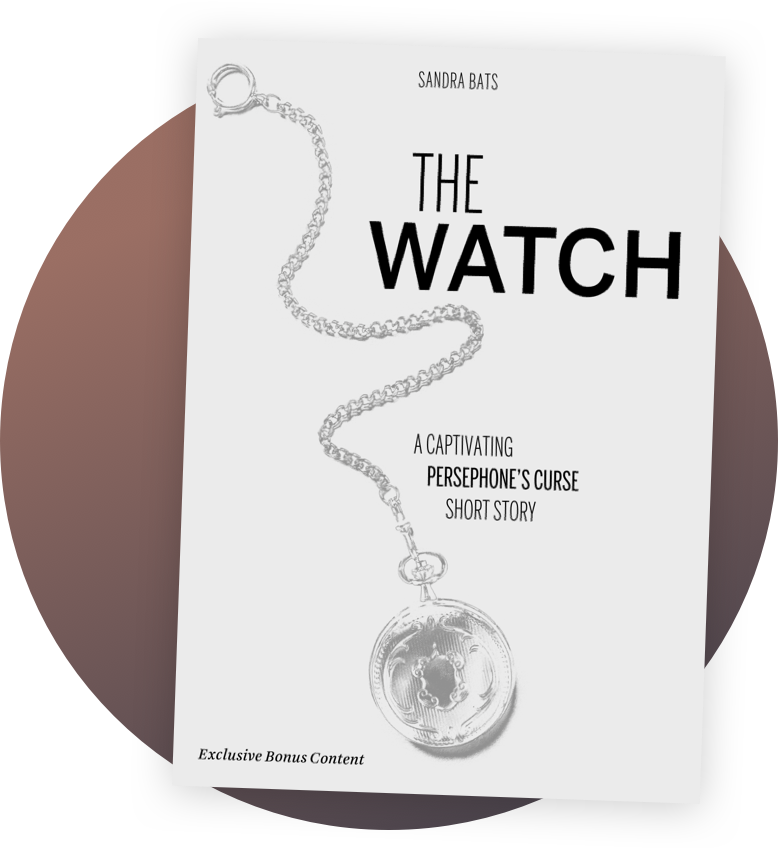 ---
Intrigued by the novel, but not yet sure? Peek into the first pages of Persephone's Curse:
I wasn't going to scream. I wasn't going to scream. I wasn't going to scream. Blinding pain radiated from my lower back. I bit down on my lip. I wasn't going to scream like I had the first two times.
The sickly-sweet stench of burned flesh lingered in the humid air. The burning pressure on my lower back let up and I was pushed forward. I stumbled over the concrete floor and my knees hit the ground. I sucked in a few gulps of air and refused the urge to press my hand to the freshly burned spot. I knew I'd find three parallel lines there — two of them older and the one they'd just burned into my skin.
A heavy boot kicked at my side and the owner of it ordered me to get up and stand back in line to wait my turn. The girl in front of me turned and grabbed my arm, hurling me to my feet. I dared to glance to the front of the line. Only three more girls in front me.
Then it would be my turn. The guard would put his hands all over me; would force himself on me, try to impregnate me so the government could find a cure for the virus killing women during childbirth.
I grasped at the details drilled into my mind. That the experience was supposed to be for the greater good; that I should have been proud I might have helped to find a cure for Persephone's virus; that the experiments that scarred my stomach could have made it possible for others to survive childbirth someday.
That I was a worthless pawn, kidnapped by government-run labs to be impregnated like cattle, to be branded and experimented on and when I eventually died I'd leave behind a child they could either sell to rich people or experiment on.
Only two girls in front of me. Girls I'd never seen before. Girls older than me. I was just fourteen and I'd just started my period the week before, which was why I was there; suddenly considered fertile and ready to be put into another cell from that day on. In a cell with the other girls who were raped every so often.
The government that told us that we should have been proud to contribute to the greater good, was the government that brought this onto us. They had unleashed this virus around the time I'd been born and had engineered it to cull the population. But the virus got out of hand and soon enough, there was nothing saving women from bleeding to death when they should rejoice that they bore new lives. There was no help. Once you fell pregnant there was no cure. Once a placenta formed, removing it would see you bleeding out within hours.
The girl right in front me was next — the one who had pulled me to my feet — and the guard dragged her forward, and harshly forced her pants down and I couldn't look at her. Instead, I glanced at the guard doing the brandings. He was in a hurry, likely because they were short staffed that day. The guards all looked the same — same buzzed haircuts, same navy-blue uniforms. They all symbolized the same to me; horror and pain and death.
Something clattered to the ground right before my feet and I glanced down. It was the guard's gun. He hadn't noticed yet, he was preoccupied, still raping the girl in front of me. I picked up the gun. It felt surprisingly heavy and not-so-surprisingly cold against my skin.
I only planned to use it on myself. That was the only way out. The only thought that occurred to me. But the guard noticed. He gave a shout and before I knew what I was doing, I pointed the gun at him. And I pulled the trigger. Screams echoed off the walls. I turned to the guard doing the brandings. I aimed at him and pulled the trigger. It was all a blur. I couldn't feel my body. My own movements. Only this drive to live that I didn't know I possessed.
There was a door behind him. Screams all around me as I rushed towards it. I hadn't thought I'd survive this long. My hands trembled. Adrenaline coursed through my body and that I could feel. That spoke to me. It said; "Kill more of these monsters!"
I ran out the door. I blinked for a second. Glanced around. Shrill alarms rang. The guard patrolling the hallway turned. The window to my left was bright; a beacon of hope. The patrol guard lifted his gun, aimed it at me and for a second, he stared. I heard more guards approach. Orders being called out. I had no time. I lifted the gun and pulled the trigger. The guard hit the ground and I turned and ran towards the window. One shot. Two. The window splintered. I broke right through it, falling into bright  daylight.
The ground hit me sooner than I thought, and the crash knocked the wind out of me. The ground? How was I not dead?
Disoriented, I clambered to my feet. A fenced-in courtyard. A concrete pipe to my right. Did my feet hurt? I didn't know. I ran when I heard more shouting, heard more shots fired. I hit my knees and crawled through the pipe. Got back to my feet and kept running.
I tried to grasp at something that could tell me where I was. Where I needed to run. But I didn't know the city. I ran past people, through alleys. Ran until my breath left me. Ran until I found a dark corner. Then another one. Hid underneath a bridge smelling of death and waited. I waited and waited, praying to whatever there was that they wouldn't find me. Waited until my injuries from the jump finally caught up with me and everything suddenly went black.
Excerpt from Persephone's Curse